When last we left our intrepid adventurers, they were headed out of Amarillo, TX and had been chatting with a long lost cousin on the phone until having to stop for fuel.  Let us look in on the events that follow:
As the day grew hotter (not warmer), Kamille and I were babbling back and forth on the ham radio as we are want to do.  Kamille was listening politely as I shared a summary of the phone conversation and I was listening politely as Kamille talked about the shifting patterns of the windmills off the side of I-40.  We were approaching the New Mexico border and I was being a bit long winded (imagine that), when I let off the mic and was immediately greeted by a stressed sounding Kamille transmitting, "NO TIRE!  NO TIRE!  NO TIRE!"  Some communication followed and I was able to see Kamille's truck limping off the side of the highway so I knew she was safe.  Once I knew she was in one piece and that she was calling roadside assistance, I drove to the Texas/New Mexico border where I exited and headed back to be with my bride.
Upon my arrival (stopping periodically to pick up parts of the trailer that had embraced chaos over order at the time of explosive tire deflation) at the "crash site," I discovered a Kamille who was beginning to recover from her heart palpitations and appeared, outwardly, to have handled the whole situation quite well.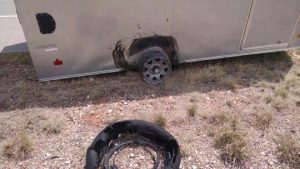 I got out and looked at the trailer.  It really didn't look good at all.  Judging from how it sat on the ground and the way it looked to be on the spring, I figured the spring had broken, allowing the tire to rub, and eventually the tire blew, taking everything with it.
Now, I mentioned that she had called roadside assistance.  When I bought my travel trailer many years ago, I also bought Good Sam Roadside Assistance to help me with my personal vehicles and my trailers.  I used it once when my old pick-up (The Beast) experienced a seized pulley and had a neat hole drilled into the motor that allowed the oil to leak out.  It worked great!  Then my son called them last year when his car stopped running in the mountains of Utah.  They charged him $300 for the tow because as an adult student, he didn't live with me.  I started asking myself then why I had them, but I had paid for several years of membership and kept my mouth shut.  In this case, we had been sitting in the Texas desert and watched the thermometer climb above 100 degrees when a series of back and forth calls resulted in Good Sam Roadside Assistance ultimately stating they would not provide any service because the trailer was filled with household goods; therefore it is a commercial trailer.  I asked them what it meant that my travel trailer is filled with household goods as well, and is pulled by a truck that is registered in NY as a commercial vehicle.  They had no answer for that one, but continued to refuse service.
When that membership expires next year, I'll not renew.
Once that happened, Kamille called AAA (her father continues to keep her as an associate on his membership – props to Dan Plocinik).  Because it is a basic membership, they politely declined to be of service as well.  This was far less of a problem because they hadn't sold their service as being for people who were hauling trailers.
I finally found a tow service that could help, but they didn't have a truck available for 3 hours (he was on a call in the opposite direction) and he suggested a company in Amarillo which had big trucks and could handle my issue.  I called them and discovered it was $300/hour and $300 hook-up fee.  Not having any other options, I agreed to the $900 towing bill and asked them to start my way.
Knowing that I had no other options as to where to go, I gave my cousin Janet a call and told her we'd be in town for dinner that night and it would be fun to meet up.  She asked what had happened, so I filled her in and we shared exasperated sighs.  She had told me that her son, Gary was out of town, so I was even more surprised when, about a half hour later, I answered a phone call from an unknown number with an Amarillo area code and found it to be Gary.  I filled him in on the issue and he told me to cancel the $900 tow because he was coming out with his truck and a flat bed trailer.
ROCK ON!
As we've heard, God works in mysterious ways and I called the tow company to cancel.  When I asked if I could, the receptionist let out her breath and told me it was no problem as they were about to call me and ask if I really needed their assistance due to operational goings on there and mucked up schedules.  Needless to say, they were cancelled and $900 stayed in my pocket.
A few hours later, and up pulls Gary in his white Ford Super Duty with a flatbed trailer in tow – just as promised.  Now when this guy gets out, I'm thinking, "Just look at him, we are, absolutely related."  I think we look mighty similar (Kamille says it's the "cop thing," but what does she know about how I look?) and there is no problem considering us cousins in my book.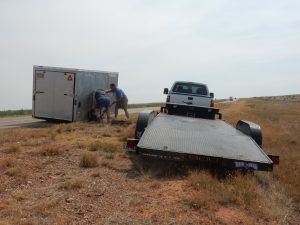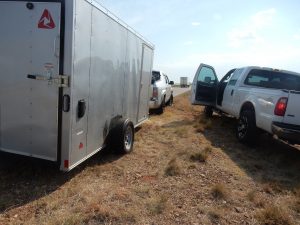 Gary took a look at the situation and he didn't figure I'd broken a spring so he pulled out his tools and we proceeded to (after multiple attempts and several hours) jack up the trailer and put the spare from the Cabin in place of the one that was, well, not there.  The tire was a different size and looked somewhat sickly on the trailer, but it held.  What I didn't like was the way it leaned in towards the trailer.  Because I was still nervous, Gary agreed to put the trailer on the flatbed and run it back to town for us.  We got everything lined up and I went to back it up the ramps when, BAM, the trailer was too wide to fit onto Gary's flatbed.  Well, the three of us finally decided to baby the trailer and tire and haul it back to Amarillo for further care in the morning.
Event started at 11:30 am and we finally pulled into Amarillo at 8 pm.  The high temperature where we were was 124 degrees.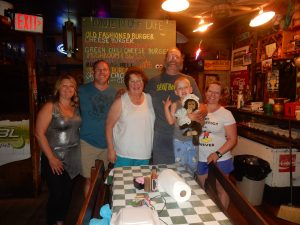 At any rate, Gary said his mother was intending for us to all eat dinner together at a place called Coyote Bluff (a rather well known burger dive in Amarillo) so he went home to shower, change, and collect his wife.  Janet met us at the RV park as we returned to town and she drove us to dinner.  When we all got together, Janet shared some family heirlooms (including a cookbook my mother had given her mother) and we had some great conversation.  I left that meal feeling like I'd just spent time with family – oh, wait….
(picture, left to right: Rena, Gary, Janet, me, Paul, Brenda, and Kamille)
When we got a chance to relax that night, Kamille and I determined it would be appropriate, no matter what happened with the trailer the next day, to take another night in Amarillo and enjoy.  Just a few minutes after we had made the determination, I received a text from Gary saying that if we were staying another night, we were expected for dinner at his house.  SCORE!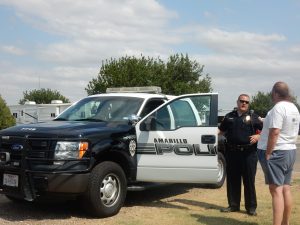 That day we took the trailer to Discount Tire and had new, heavier duty, tires and rims mounted on it.  The tire didn't bow in as badly, and they seemed to hold the trailer close to how it was meant to be.  Things were looking up!
When we got back, we went swimming and Gary stopped by while on duty.  The day was awesome!  Janet stopped by and picked us up, again, to take us to Gary's place for dinner where he had his grill fired, beer iced, and conversation ready.  We kept it going until about 10:30 pm when he suddenly realized what time it was and that he had to go to work the next day, so we called it a night.
I'm looking forward to visiting again when there is less stress.
A good night's sleep and the morning saw us making another run for the border.  Will we make it?